Study In Russia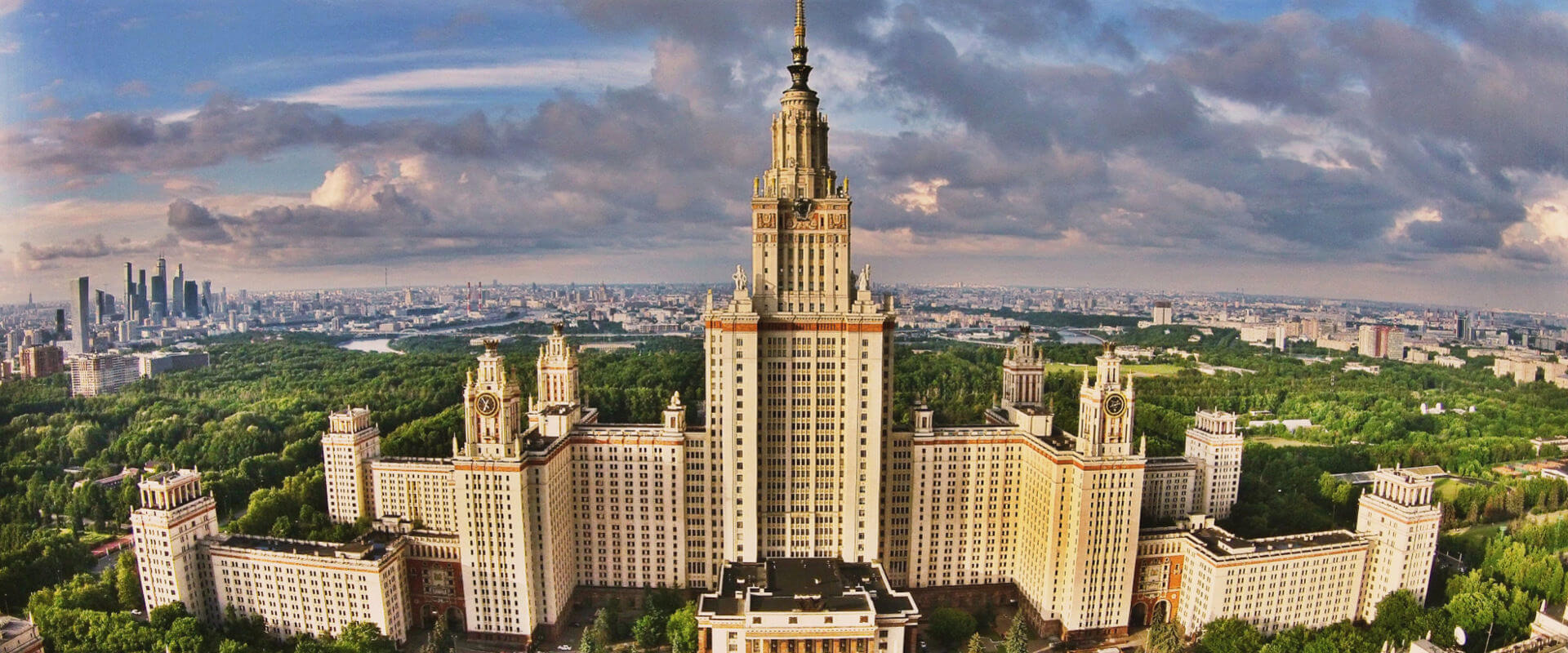 Why Russia
Russia is a highly educated country with over half of its residents holding a university degree. Russian universities provide students with comfortable studying and living conditions and help them adapt to the country. Russian universities train a wide range of specialists in medicine, engineering and humanities; and they are regularly ranked amongst the world's best institutions. Education in Russia is much more affordable than in the USA or UK. A select few students may even be entitled for a scholarship that covers their tuition fees apart from the living expenses. Each year, Russia accepts students from nearly 170 countries worldwide.
Country Facts
Russia is the largest country in the world, covering an area about 17.1 million square kilometres and spanning more than one-eighth of the Earth's inhabited land area. The Russian Federation stretches across eleven time zones and borders 16 independent nations, and arguably the only transcontinental country on the planet. The territory of Russia extends from the Baltic Sea in the west to the Pacific Ocean in the east, and from Arctic Ocean in the north to the Black Sea in the south. Russia is also the most populated country in Europe with over 150 million inhabitants living in the country's 85 political divisions. Russia's capital and largest city is Moscow, and other major cities include Saint Petersburg, Nizhny Novgorod and Kazan amongst others.
Higher Education System
In Russia, the state provides most education services regulating education through the Ministry of Education and Science. Regional authorities regulate education within their jurisdictions within the prevailing framework of federal laws. Russia has some of the smallest class-sizes and shortest instruction-hours per year. Russia's higher education as the third-best in the world and ranks as the 6th most-popular destination for international students.
The number of state-owned institutions have risen steadily from 1990 onwards; and Russia now has over 650 public institutions till date. The number of private institutions in Russia have also risen steadily through the nineties.
Unlike the Bologna process model, Russian higher education was traditionally not divided into undergraduate (Bachelor's) and graduate (Master's) levels. Instead, tertiary education was undertaken in a single stage, typically five or six years in duration, which resulted in a specialist diploma, perceived equivalent of Western MSc/ MA qualification. A specialist graduate needed no further academic qualification to pursue a professional career, with the exception of some branches of medical professions that required a post-graduate residency stage.
Russia is in the process of migrating from its traditional tertiary education model to a degree structure in line with the Bologna Process model. In 2007, Russia enacted a law that replaces the traditional five-year model of education with a two-tiered approach: a four-year bachelor's degree followed by a two-year master's degree
Test Requirements
Traditionally, the universities and institutes in Russia conducted their own admissions tests regardless of the applicants' school record. There was no uniform measure of graduates' abilities; marks issued by high schools were perceived as incompatible due to grading variances between schools and regions. In 2003 the Ministry of Education launched the Unified state examination (USE) programme, a set of standardised tests for high school graduates, issued uniformly throughout the country and rated independent of the student's school record. Thus, the USE has empowered talented graduates from remote locations to compete for admissions at the universities of their choice, at the same time eliminating admission-related bribery. A few higher education establishments are still allowed to introduce their own entrance tests in addition to USE scoring; such tests must be publicized in advance.
Awarding USE grades involves two stages. In this system, a primary grade is the sum of points for completed tasks, with each of the tasks having a maximum number of points allocated to it. The maximum total primary grade varies by subject. The primary grades are then converted into final test grades by means of a sophisticated statistical calculation, which takes into account the distribution of primary grades among the examinees.
Scholarship Programs
Government scholarships in Russia are awarded to the most talented students on the basis of their academic merit. The commission looks at a students secondary School marks if he/she applies for a Bachelors program, or at his/her academic excellence during undergraduate studies if he/she applies for a Masters program.
Government scholarship includes free tuition for the entire duration of the chosen program, maintenance allowance as well as dormitory accommodation for the entire duration of study regardless of the candidates academic performance.
Certain groups of foreigners can apply for state scholarships on the same terms as Russian citizens once they pass entrance exams (EGE). Moreover, every year, the Russian government provides 'state-funded spots' at universities to international applicants. In 2020 alone, 15,000 such spots were granted.
The number of state-funded places for international students allocated to a country depends on the nature of its cooperation with Russia. Some countries have agreements defining not only the number of funded places, but subjects as well.
Cost of Living
Life for expats in Russia is generally comfortable, with expenses such as groceries and utility bills being fairly inexpensive even in major cities such as Moscow. Outside of the major metropolitan areas, prices are even cheaper, with lower bills for food and transportation. It is possible to live comfortably as an expat. The cost of rent for a three-bedroom apartment in the city centre is about 47,000 Roubles (USD 660). Tenants in Russia are required to pay for their utilities and communal charges. Centralised heating is offered between autumn and spring in the apartment blocks for a small monthly fee. An accommodation in dormitory can cost only a third of this amount.
On an average, the monthly minimum expenses for groceries per person is 5200 Roubles (USD 70). Utilities expenses are cheap and normally cost around 40 USD a month. The cost of the internet can be as low as USD 15 per month. Local calling and mobile messaging is extremely cheap. Local Russian restaurants, cafes and bars are highly affordable and offer good wholesome fare. Transportation is quite comfortable and doesn't cost a bomb. A student may spend about 400 Roubles (USD 5) at most as a monthly expense for transport needs.
Transportation
Typically, major Russian cities have well-developed systems of public transport, with the most common varieties of vehicles being bus, trolleybus and tram. Seven Russian cities, namely Moscow, Saint Petersburg, Kazan, Nizhny Novgorod, Novosibirsk, Samara and Yekaterinburg have underground metros, while Volgograd features a metro-tram. Moscow Metro and Saint Petersburg metro are amongst the fastest metro systems in the world, and some of them are famous for rich decorations and unique designs of their stations, which is a common tradition in Russian metros and railways.
Russia also has over 1200 airports along with multiple sea ports and inland waterways that provide connection between various cities. Russia also has one of the biggest rail networks in the world, and also the largest electrified network of rails.
Jobs
Russia has diverse employment opportunities and expats are often the best-paid professionals. Expats who work in Russia are ranked 13th in the list of highest gross income earners.
There is a high demand for foreign experts in Moscow, although limited to specific sectors. Human Resources, IT, Business Development and Finance are the most preferred areas of work for foreign expats. Russian companies that operate in energy, finance and construction sectors may also present opportunities. The greatest demand for workers is in the following job profiles: sales managers, sales people, skilled employees and engineers. The medical and pharmaceutical sector also faces a deficit of skilled labour, thereby providing an opportunity to expats for a job opening. The most competitive jobs in Russia for English speakers are in governmental institutions, publishing and mass media.
Work Permit
All foreign nationals wanting to work in Russia must have a work permit. Federal Migration Service issues work permits which ones needs to acquire before applying for a work visa. Most foreigners require a full work visa to take a job in Moscow or St. Petersburg. The process of applying for a work permit is different for residents of CIS countries (Commonwealth of Independent States) and all other nationalities.
Non-CIS residents can apply for two types of permits – a Standard Work Permit that is available for any salary level OR a Permit for Highly Skilled Specialists.
When applying for the Standard Work Permit so that one can register for Russian jobs, the relevant government department sends the permission to an employer to request the work permit. Afterward, the individual submits an application to the Federal Migration Service. After submitting all the documents, the permit is issued within 35 business days. Once the permit is issued, one can freely enter the country during the three months after the date of receiving the permit. The permit lasts for the duration of the job, although work visas should be updated every 12 months.
Candidates with specialist skills looking to work in Moscow and St. Petersburg can apply for Highly Skilled Specialists Work Permit at Russian embassy or consulate in their home country. The process usually takes up to 14 days and allows one to apply for the permit in their home country, takes less time and is valid for three years.
Popular Programs
Russian universities are offering a growing number of degrees taught in English, and the Russian government is keen to attract international students, currently offering 15,000 state-funded places to international applicants, which include full tuition, dormitory accommodation and a monthly maintenance allowance. Although many Russian universities offer preparatory language courses to help students gain the necessarily skills to study in Russian, there are a range of English-taught programs available if a student prefers English as the language of instruction.
The exact requirements for getting admitted to an English-taught program at a Russian university may vary, but in general one needs to provide a document such as a diploma or certificate that certifies one's previous education, a cover letter and proof of your English language proficiency with the required score on a test such as IELTS or TOEFL. Some universities might also ask for a CV, portfolio, references from teachers, and for a student to complete a Skype or phone interview in English. Russian universities offer English-taught programs in medicine and dentistry, nuclear medicine, aerospace engineering, aerodynamics, biomedical engineering, computer science, mathematics, natural sciences including chemistry, physics and biology business, management, economics, humanities subjects like history, politics, as well as linguistics, regional studies and state and municipal management and big data solutions.