Germany Student Visa Consultant in Vadodara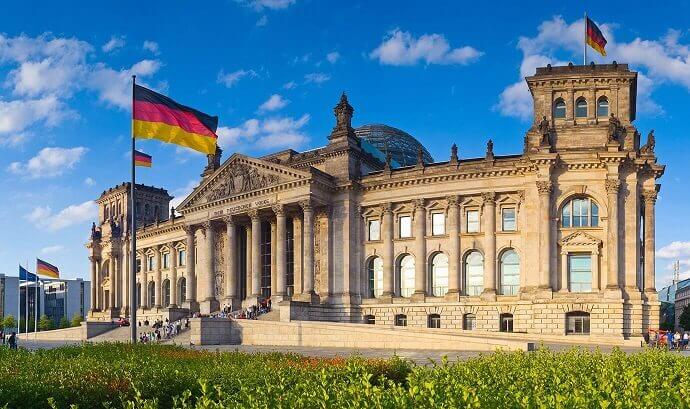 Did You Know : Why You Should Study in Germany?
As a leading Germany Student Visa Consultant in Vadodara, we would recommend Study Abroad in Germany based on the following reasons,
Study in Germany to Study Abroad for Free/Low Education Cost; Germany is one of those study destinations where the public universities charge little to no tuition fees.
German universities consistently rank among the world's best universities, and most of them easily surpass global higher education standards.
Being a thriving economy, it offers international students and graduates and a lot of opportunities for work. German university degrees are highly respected by employers worldwide.
The German education system offers international students subjects of varied choices. One would find a number of options to pursue higher education in Germany; courses that offer specialized degrees, to unique programs aimed at catering to international educational requirements; Germany has programs to offer all kinds of educational needs of international students.
The living cost in Germany is affordable compared to some of the developed countries in Europe. This enables the students to survive in most German cities with relative ease.
Germany has always been at the forefront of technological advances and innovative inventions. A student that graduates from a German university are sought after not only by German companies in and outside Germany but companies from around the world.
Higher education from Germany can set a student up for life and help him/her attain great heights in one's professional life, build a strong career, and a bright future.
Know the Country Facts of Germany
Germany is a country in Central and Western Europe, covering an area of 357,022 square kilometer's. it is the second-most populous country in Europe after Russia, as well as the most populous member state of the European Union. It has the largest economy in Europe, the world's fourth-largest economy by nominal GDP, and the fifth-largest by purchasing power parity (PPP). It is recognized as a global leader in several industrial and technological sectors.
The Federal Republic of Germany lies in the heart of Europe and is a cosmopolitan, democratic country with a great tradition and a lively present. Germany has one of the world's strongest economies, and it offers innovative research and education landscape. Simultaneously, it has a strong creative economy and a dynamic cultural scene. Germany is the European Union's most populous nation with 82 million inhabitants.
Germany is surrounded by nine neighboring countries. Its territory encompasses roughly 357,000 square kilometers, stretching from the North Sea and the Baltic Sea in the north to the Alps in the south. Some of the largest European rivers – the Rhine, the Danube, and the Elbe – flow through the country. German landscapes are extraordinarily varied and attractive: low and high mountain ranges, extensive lake districts, forests, and roughly 2,390 kilometers of coastline.
Higher Education System in Germany
Tertiary education institutions in Germany provide higher education to qualifying individuals who have completed their secondary education in Germany or abroad, which entitles them to pursue higher education programs. The educational institutions in Germany cater to an international audience apart from imparting tutelage to German students. This makes the certification and all qualifications earned in Germany comparable internationally.
The benefits of these developments in the German education system are becoming increasingly prominent, as an increasing number of international students come to German to fulfill their aspirations of quality tertiary education that gives them an advantage in a global employment scenario.
There are many kinds of tertiary education institutions in Germany that are known for imparting domain-specific education and training. Don't worry and get confused with them, as your Germany student visa consultant, we really like to explain you in detail, for your best understanding.
Some of these tertiary education institutions in Germany are as below:
Research Universities
These are higher education institutions providing facilities and academic expertise to award students with degrees like Masters and PhDs. Most of the Research Universities are publicly administered.
Technical Universities
These are a sub-group of research universities, and their focus is on science, technology, and engineering disciplines.
Universities of Applied Science
The applied sciences are the best choice for students who wish to learn technical subjects through enhanced practical work and industrial exposure. The Universities of Applied Sciences in Germany offer great practical relevance with a special focus on well-founded academic training for various degree programs in the field of technology.
College of Art, Film &  Music
Artists wishing to turn their talent into a profession join the great colleges of art, film, and music in Germany. Here, young minds are taught creativity and their talents are molded and honed to perfection. The various programs taught here extend from painting, design, and architecture to directing, music and drama. The threshold for entry is high, but the training is excellent. Students get either one-to-one teaching, or classes are taken in small groups to ensure that the young artists get their finishing artistic touch.
Church Maintained Colleges in Germany
These colleges spread throughout the country focus on the field of social work. Also available are courses dealing in curative/therapeutic education, healthcare, and nursing as well as training for church musicians.
Private Universities in Germany
Private universities offer some of the best, although, expensive education in Germany. However, despite the high tuition fees, private universities in Germany are becoming a popular option among students. These universities employ some of the most effective teaching methods, typically have strong ties with business and industry, are greatly focused on practical aspects of the program, have a strong international orientation, and shorter study duration; their students have good career prospects.
Universities of Co-Operative Education
These institutions are not for higher education. Nevertheless, their certificates and degrees are partly recognized as equivalent to Fachhochschulen (Universities of Applied Sciences) qualifications. Berufsakademien or Vocational Academies offer academic studies with a focus on business, technology, and social studies along with vocational training, i.e. cooperative education. This dual training alternates between courses and takes place at the academy and at practical workspace such as a company, where the students are trained. This addition to the students' resume is one of the top reasons for many companies showing a strong interest in Berufsakademien graduates, particularly, German global players who have their branches spread around the world.
Scholarship Programs to Study in Germany
Germany offers a number of scholarships depending on the course that one chooses and the country that an international student comes from by applying for a Germany Student Visa.
These scholarships can be mainly classified into two kinds: college-specific scholarships and non-college-specific scholarships. Depending on the course and the university one chooses to study in, an application has to be made to corresponding scholarship-awarding organizations in order to find sources of funding to complete study or research in Germany.
We always love to share the best and reliable information with our study abroad aspirants and to be a leading Germany student visa consultants in Vadodara, Gujarat, we have curated A few general guidelines help the applicant in understanding the possibility of being awarded a scholarship by one of the organizations,
The minimum age for application to a scholarship is 18, and no more than 6 years should have passed since the completion of the last degree.
Apart from a monthly payment for an applicant's tuition fee paid for a defined funding period, scholarships generally include other payments as well such as travel expenses, health and accident insurance and personal liability insurance.
Recipients of full scholarships are generally not permitted to receive funding from other scholarships simultaneously.
Scholarships may be awarded as financial aid or non-financial aid. In case of financial scholarships, the recipient is awarded a fixed amount, paid out on a monthly basis over a defined funding period. These types of scholarships are often full scholarships that cover most or all tuition fees.
Scholarship programs are aimed at creating a long-standing relationship between the scholarship-holder and the scholarship awarding institution well beyond the defined scholarship period.
Cost of Living in Germany Cities
If you're planning to study and live as an international student in Germany, it's good to know and have accurate expectations about the cost of living in Germany. The cost of living in Germany depends on the place you will be studying at and your lifestyle, but generally, the basic expenses are close to the European Union average – about 850 euros a month; and this should cover basic living expenses in Germany as of 2021.
Some of the expenses that one incurs while studying in Germany are rent and utilities, public transportation, food and drink, health insurance, internet, recreation, and clothing. Rent, food, and clothes are more expensive in big industrial cities. In contrast, less-populated areas offer cheaper options for some products and services. Within the urban areas too, expenses can differ extensively depending upon where you live, and choosing the ideal place can save you a lot of money. An apartment in the city center or peripheral area, or a one-bedroom apartment or a two-bedroom shared apartment, a perfectly furnished apartment, or a semi-furnished apartment can affect your monthly expense greatly.
Some housing rentals have monthly bills for heating, electricity, water, and garbage cost included in the rent. As a student, you'll be moving around all the time for your classes, meeting a colleague, and going to shop for groceries. Making a good selection of what type of transport to use can save a lot of money for you.
One of the biggest pre-requisites to study in Germany is to have a blocked account, a special type of bank account for international students in Germany, to prove you have sufficient funds to live in Germany for one year during your studies. As of 2021, a foreign student in Germany needs to have €10,236 in one's bank account before applying for a German student visa.
Besides devoting yourself to studies and university grades, you will also be juggling with the living costs alone. Having a better understanding of what awaits you in Germany prior to your departure can ascertain your success to a great extent.
As the best Germany Student Visa Consultants, at Euro Edu Consultants, we take a 360-degree approach to all these above aspects while recommending a course in a particular university, so that your task becomes easier upon arrival in Germany.
Under Graduate Degree
If you wish to study a bachelor's degree in Germany as a non-EU international student, you must check whether your previous educational qualification is recognized by German universities. A school-leaving certificate attained in one's home country must be compared and translated into German qualification terms, lest it not be recognized.
Many foreign students who have no prior information about the German education system, fear that their dream to study bachelors in Germany may not come to fruition owing to the non-equivalence of their educational qualification in their home country to the German qualification requirements. However, German universities have a solution for you called Studienkolleg, a course that allows one to complete any deficient education credentials to enrol into a bachelors program in Germany. It's also a known fact that those international students who undergo such course before the commencement of their bachelors degree in Germany are more successful than those who don't.
Simply put, a studienkolleg is a prep college in Germany designed to allow incoming international students who are willing to study an undergraduate program in Germany, to gain extra credits if their qualifications doesn't meet the criteria set forth by the German education system. Usually, a studienkolleg course lasts for a full academic year and it prepares you with the required skills and knowledge in subjects related to your chosen university course.
Generally, a Bachelor's Degree Course is available in German language, although there are English-taught programs in select universities. The key to securing admission in a bachelor's program of your choice is to start one's application process early, ideally at least 12 months in advance, so as to allow yourself ample time to complete all criteria set forth for admission by leading institutions offering a bachelor's program of your choice.
35% of all international students enrolled at German universities seek a Bachelor's Degree which indicates the immense popularity of such degree programs in Germany. A German bachelor's degree will equip you with a strong theoretical and practical understanding of your professional field and open doors of opportunity in your academic pathway and professional life.
To apply for a Bachelor's degree in Germany you need a detailed step-by-step guide to ensure that you comply with all requirements of the course and have a hassle-free experience in obtaining necessary visa to study in Germany. At Euro Edu Consultants, we shall ensure the best service that you deserve for the entire process, thereby enabling you to have error-free application, that doesn't result in failed attempt.
Post Graduate Degree
German Universities offer a wide range of international master's programs that are increasing in popularity the world over. These courses are offered in English, German as well as bilingual options. A lot of these courses may require a minimum score in a bachelor's program apart from language proficiency in English, German, or both. TOEFL/IELTS are the tests that showcase your English proficiency, while German language proficiency can be achieved via certification through TestDaf or DSH. GRE/GMAT scores may be required to apply to specific master's programs. Bilingual courses are generally offered in some universities with a limited number of available subjects. Such courses have half of the subjects in English and German each. (For learning German Language easily you can join the best German language classes in Vadodara)
International students with no prior knowledge about the German education system can find the application process for a master's course a bit intimidating. There are different entry requirements for courses applied to within the same university and every minor error during application could lead to a failed application. Universities in Germany collect a large number of applications and going through each of them takes time. Normally, the processing time for one's application can take several weeks in general, to a few months in some cases on account of issues related to one's documents.
Germany offers higher education in its public universities, which are administered by the state, as well as its private universities, which are set up by independent companies, organizations, or charities. Every public university sets up their own degree programs, assessments, examinations, and entry requirements, while the state controls funding, fee policy and quality control, as well as accreditation of courses. Private universities are free to set their own fees – higher than the public universities – but, the degrees granted are fully recognized and they do meet appropriate quality standards.
Jobs in Germany
Non-European citizens pursuing higher education in Germany are allowed to work for 240 days on a part-time basis or 120 days on a full-time basis without applying for a work permit. Mandatory internship, project work thesis work are excluded from the work restrictions or work permit hours.After completion of study at the university, a foreign student is allowed to stay up to 1.6 years in order to apply for and take up a job in the area of specialization that one has chosen to pursue higher education in Germany. Upon receiving a letter of interest or Work contract from a company in Germany, one may apply for a work permit at the Local Employment Office. Issuance of a work permit may take around 4 to 6 weeks.
An international student who has completed his higher education from a German university can land a position in German company and process a work permit without much hassle. Germany requires foreign nationals with professional capabilities in various spheres like engineering, informatics, science and mathematics, medicine, architecture, innovation and business management and leadership. University graduates in STEM (science, technology, engineering and mathematics) are easily absorbed as researchers in their respectable field of study.
Popular Programs to Study in Germany
A standard degree of Engineering encompasses general knowledge from all branches and detailed study in a specialized field of technology. Engineering degrees are some of the most sought-after courses in Germany; students can opt for mechanical and automotive engineering, mechatronics, computer science and information technology, electrical engineering, civil engineering and metallurgy.
Industrial Engineering
This is a branch of engineering which works towards making companies and organizations more efficient. It can work with both products and services. In a manufacturing unit, this branch of engineering deals with reducing machine time and other resources which are not valuable. In services, it looks to decrease time, money, and employee hours that do not add to the productivity of the company.
Mathematics
The science of mathematics has always been valued. Mathematicians deal with the complexities of all that needs calculations. They come up with models and formulae which solve difficult and challenging problems as well as discover algorithms and models which make it possible for us to communicate and work with each other only throughout a small screen.
Natural Sciences
Physics, chemistry, and biology are highly accurate sciences. They assist people in making precise materials, knowing the laws of the natural world, and discovering other organisms. Throughout modern times, these sciences have made interesting and important findings about the world we live in. Those with degrees in either of these natural sciences are very well placed within the German workforce.
Business and Economics
Having the knowledge to manage a company and compile its strategy makes all the difference between success and failure. All companies and organizations, whether public or private, need people who know the basics and the intricacies of business and economics. A degree in business and economics can set one up for top management in Germany after study.
Architecture
Architects design the buildings and structures we live and work in. They plan our spaces and the way the occupants use it. Their skill does not lie in only coming up with buildings that look good, but in also having them be strong and not prone to collapsing. Together with engineers and other professions, architects work to construct spaces that serve our living and working needs. Consultant architects are paid top charges for their services in Germany.
Psychology
Our mental well-being is just as important as our physical health. Psychologists take care of our mind. Increasing number of people deal with problems such as anxiety, depression, or just plain overloading stress in today's times. Psychology and its branches train people with whom patients can discuss and find solutions to their mental health issues. They prescribe medication and slowly work through to make them healthier individuals.
Medicine and Dentistry
Doctors and Dentists are valuable professionals throughout the entire world. Health is seen as one of the most important factors of having high well-being in any country. Because of that, medical occupations are the top paid degrees in Germany. A doctor or a dentist is expected to make the highest amount of money compared to graduates with other degrees.
Law
Lawyers are highly important in German society. Having a good justice system makes a country seem more developed and fair to its people. Whenever people have any legal problems, they are faced with an important task of finding a good lawyer. The high admittance criteria in Germany and the fact that the courses are very challenging, makes them so valuable. due to their effort to graduate and their importance in society, lawyers in Germany get paid extremely well.
Admission Process & Eligibility Criteria for Germany Student Visa
Lawyers are highly important in German society. Having a good justice system makes a country seem more developed and fair to its people. Whenever people have any legal problems, they are faced with an important task of finding a good lawyer. The high admittance criteria in Germany and the fact that the courses are very challenging, makes them so valuable. due to their effort to graduate and their importance in society, lawyers in Germany get paid extremely well.
A number of things must be taken care of before applying for admission to a German university. Amongst these are validity of passport, English language proficiency score, German language test and in some cases GRE or GMAT scores. For admission to a master's program, the transcript or a consolidated list of all the courses and grades of bachelor's degree is an important document for the admission process, and it's provided by the university upon request.
Curriculum Vitae (CV) is gives you an opportunity to feature all the aspects that make you the perfect choice for a university, and it's listed as an admission requirement for all German universities. In this guide, we will assume that you are going to prepare your Curriculum Vitae from scratch.
Regardless of the course that you are applying for, you will be asked to send a Statement of Purpose (SOP) along with your application to the university. This is an opportunity for you to convince the universities that you are an eligible candidate for their program by telling them your story. It is the single non-official document in the application that can carry up to 30% weightage in deciding success for your application.
Letter of Recommendation (LOR) is a certification of your academic qualifications as assessed by your teacher. It can also be an assessment of your professional skills when it is given by your manager or immediate supervisor in your company. LORs are highly valued in Germany.
Applying to universities can be a tedious process and a strenuous one. It's important to not miss any of the required documents. Even if you already have a decent CV, we recommend you to take professional help to stick to the guidelines and tailor it to the needs of your target universities. As scary as this may sound, the application and selection process for German universities can be quite simple with a little professional guidance.
Tuition Costs of Germany Universities
The public higher education in Germany is offered for free, but a student may have to pay a registration fee that ranges between €120 and €280. Additionally, one would have to pay for semester contribution each semester; this would enable a student to use public transportation free of charge for 6 months.
Private universities are allowed to fix their own tuition fee structure for various courses in Germany. However, despite the relatively high tuition fees, private universities in Germany are becoming a popular option among students as the tuition fees in German private universities are far less than their North American counterparts. These universities have strong ties with business and industry, and their strong international orientation and shorter study duration attracts students throughout the world.
Disclaimer
Euro Edu Consultants take care to provide authentic information about universities and visa process to applicants. However, it may be noted that applicants are required to check about the authenticity from relevant sources online and otherwise. Euro Edu Consultants shall not be held responsible for any actions that arise out of the information that it provides through its website or its counseling services, and shall not be liable for any damages thereof.