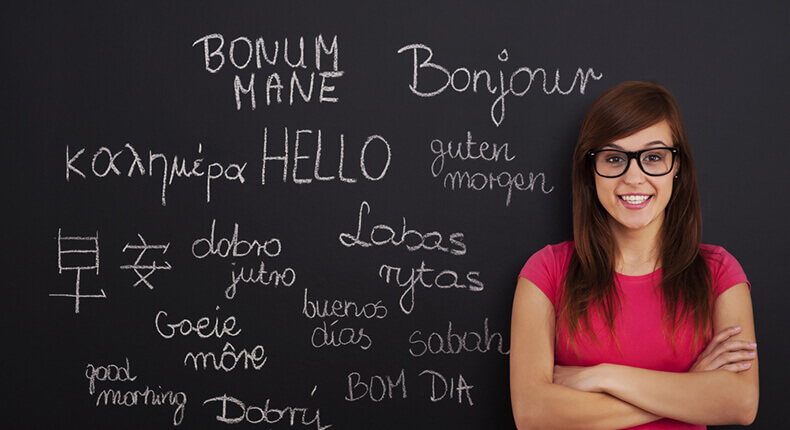 Foreign Language Coaching in Vadodara
Looking for Spanish, French, or German language classes in Vadodara? Great, your search ends here. Learning a foreign language is easy and fun at Euro Edu Consultants. People who can speak a foreign language open doors to new opportunities in India and abroad. At Euro Edu Consultants, you learn with experienced guides who are not only masters of their language but also know how to teach a foreign language in an easy and fun environment.
Build your fluency and confidence as you participate in dynamic group activities and lively classroom discussions on a diverse range of topics.
According to CEFR Standard, there are 6 levels of skill for each European language:-
A. Basic
A1 (Beginner)

A2 (Elementary)
B. Independent
B1 (Intermediate)

B2 (Upper-Intermediate)
C. Proficient
C1 (Advanced)

C2 (Mastery)
The program ends with a 2-hour test at the end to assess the student's ability to listening reading and speaking and entitles them to a certificate.
German Language Classes in Vadodara
German language classes in Vadodara and in India overall, becoming popular due to their welcoming migration and work policies, which give access to all of the European Union. There are around 200 million German speakers worldwide and it's required to know basic German to get enrolled in a University in Germany.
Reasons to Study German Language
Work – German is also a major language of communication in business, trade and tourism. Germany is an economic leader in the European Union and ranks among the largest economies worldwide. Many international companies are based in Germany, and it is recognized as one of the top exporters and importers in the world.
Tourism – Visit the Historic country with deep heritage and go to famous places like the Brandenburg Gate, Cologne Cathedral, Neuschwanstein Castle and famous football stadiums.
Migration – Germany is welcoming towards migrants as compared to other EU member countries. It also allows a one year work allowance after master's competition, which can help you migrate to the country. Knowing German can help you assimilate into the environment much more easily.
Study – Germany is the most popular European option for higher education due to the low/almost free cost of tuition fees. This reduced expense makes it very attractive but it is required that incoming students know a basic amount of German even if the medium of instruction is English.
Euro Edu Consultants's German Language Classes in Vadodara, can prepare you for all your needs and also provides a certificate that can be used to gain new opportunities. Our experienced teachers can help you in the communication of the German language and give you confidence in all your endeavors.
And if you are learning the german language for taking admission to a university in Germany, then you must also check out the Best Germany Student Visa Consultant in Vadodara.
Spanish Language Classes in Vadodara
Spanish is a global language spoken by over 500 million people around the world in over 30 countries. It opens horizons to Latin American countries and Spain for work, study and immigration opportunities.
Spanish is similar to English as they both have Latin roots and can be learned easily with the help of the right practice.
Reasons to Study Spanish Language
Work – Spanish can boost your CV as it is the second most spoken language in the world and is advantageous for anyone doing business in Spain or Latin America as South America is a rapidly growing market like India.
Tourism – If you have plans to travel around South America and other Hispanic countries, knowing the local language can help you interact with the locals and create a memorable experience.
Migration – For work opportunities and living in spain. It is required to learn some amount of Spanish to ease the immigration process.
Study – Spain has some of the lowest-cost options in the EU which makes it an attractive country for further studies. But basic knowledge of Spanish is required for enrollment in most public universities.
French Classes in Vadodara
Join the community of over 300 million French speakers in over 50 countries around the world. French is a beautiful language and lovely language to learn and speak.
French is a global language as recognized by the United Nations and a very influential language as it is a language of culture, including art, cuisine, dance, and fashion. Learning French will develop your creative and critical skills.
Reasons to Study French Language
Study – France has some of best universities in Europe which makes it an attractive country for further studies. But basic knowledge of French is required for enrollment in most public universities. In humanities and social sciences, many important writings have come from France. France has won more Nobel Prizes for literature than any other country in the world and is one of the top producers of films just like India.
Work – Learn French with Euro Edu Consultants and there are possibilities to work in the following fields: international business, hospitality industry, international agencies, tourism and diplomatic service. France has Europe's most investor abroad amount. A new foreign language like French will definitely increase your job opportunities and salary potential.
Tourism – France is one of the world's major foreign tourist destinations with almost 100 million tourists visiting every year to see the world renowned landmarks such as Eifel Tower, Lovre Museum, Cathédrale Notre-Dame de Paris, Palace of Versailles and famous sports stadiums.

Euro Edu Consultants's French Language Course teaches you the language and gives you confidence to communicate without any hesitation . Our experienced teachers can help you in prepare for the official ceritifate test conducted by Alliance Française.
If you are interested in foreign language classes in Vadodara and wanted to learn it for studying abroad, then we provide the best support for learning German,  Spanish, and  French.
At Euro Edu Consultants, we have a team of experienced and certified language trainers to teach you and make learning faster.
We have very limited students in each batch to focus on individually and get the best results from each student.
We also provide online language classes in Vadodara, to provide the best learning experience, to maintain safety and social distancing. (Especially for COVID-19 Pandemic)
You can contact us today and check out the available batches and time flexibilities to get started with your language classes.